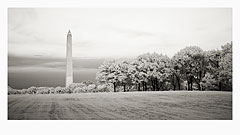 George Mason University, School of Art, African and African American Studies will host the photographic print exhibitions, "Black Bodies in Motion" and "Colors of Life," the new juried exhibitions from The Exposure Group African American Photographers Association, Inc. A "Meet the Artists" opening reception will take place Thursday, February 16, 2012, from 3-5:30pm in Mason Hall at George Mason University, School of Art.
"Black Bodies in Motion" and "Colors of Life" will showcase the photographic work of the Association members who include portrait artists, photojournalists, documentary and fine art photographers. These exhibitions celebrate culture and history; embrace communities; and explore artistic ideas and visions. These exhibitions will be on display from February 1-29, 2012. The gallery, located at 440 University Drive, Fairfax, Virginia 22030, phone (703) 993-1005, is open to the public Monday through Friday from 9 am to 5 pm.
For more information, contact:
George Tolbert at 202-747-4030 or ; or Bonita Bing at 202-747-4031
The following photographers will be featured in this exhibition:
Don Baker
Nicole Bates
Donald Bernard
Bonita F. Bing
Benson Blake
Sam Brown
E. Carol Burns
Zandra Chestnut
Danita Delaney
Bruce Fagin
Lisa Fanning
Sharon Farmer
Jeff John Fearing
Maurice G. Fitzgerald
Simone Green
Michael Gross
David Hamilton
Gail Hansberry
Dawn Hester
Daniel Hutch
Richard E. Jenkins III
Donnamaria Jones
Marvin T. Jones
Ahmad Kenya
Gloria Kirk
Shevry Lassiter
Lillie Lewis-Garrett
Barbara Manor
Criss Massie
Lionel Miller
Otis P. Motley
Jeanne Murray Franklin
Edward Savwoir
Michael G. Smith
George Tolbert
One of my prints, A Monumental View, will be on exhibit at the George Mason show in February. I hope to see you at the opening!
The Exposure Group is a membership driven, non-profit professional organization open to photographers worldwide since 1978. The mission of the organization is to enhance the skills, professionalism, and productivity of its members through information, education, demonstration, and compensation in the business of photography. The Exposure Group holds its monthly meetings at DCTV in The Historic Brooks Mansion in Washington, DC.