To D.C. residents and many fans across the country, the legendary Chuck Brown was known as the Godfather of Go-Go music. He lost a 2-month battle with pneumonia and will be laid to rest this week.
I've enjoyed many of Chuck's songs over the years like Run Joe, Moody's Mood, and Bustin' Loose. If I had to pick a favorite though, it would be "It Don't Mean A Thing". I've always liked that smooth jazzy groove. Unfortunately, I only had one opportunity to see him perform live. It was Spring 2011 in Cambridge, MD, where he headlined the Kappa Alpha Psi Fraternity's Eastern Province Council. I captured several images of Chuck and his band winding up the crowd.
Chuck Brown did a lot for many people in D.C and around the world who partied to his music. Not only did he blaze a trail in Go-Go music, but he's an entertainer who remained a humble human being. May he rest in peace.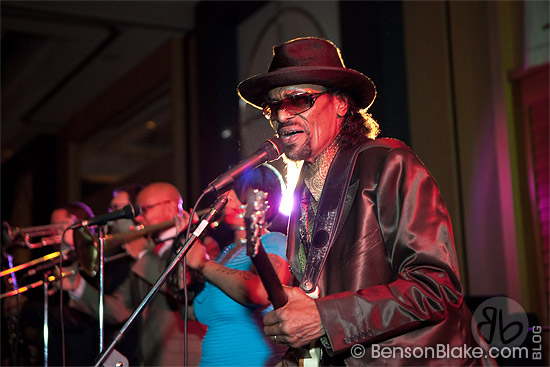 Chuck Brown performing at the Kappa Alpha Psi Fraternity's 2011 Eastern Province Council